Financial Planning & Portfolio Management
Your Financial Future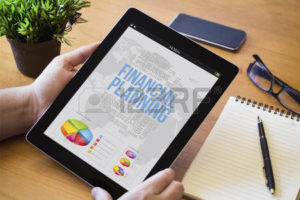 Bankrate.com found that more than 50 % of Americans are not invested in the stock market, including in their retirement accounts.
Not investing is one of the biggest mistakes you can make if you want a wealthy retirement.
When it comes to investing, fear prevents most people from starting. Whether it's fear of losing money or fear stemming from ignorance; fear is dangerous to your investments.
Major mistake is to stay out of the market until you hear that everyone is buying in – normally at the top.
When extreme fear hits the market and things are falling apart, it creates incredible opportunities.
Safe way to play the market is to begin by buying an index fund; start with the ETF (Exchange Traded Fund) SPY which represents the S&P 500 index.
Choose a low fee (discount broker) like Fidelity or Vanguard, you will save a significant amount of money on commissions.
Another smart strategy is to buy the S&P 500 index from Vanguard, the fund is a no-load (no commissions) and out-preforms the majority of managed funds.
If you have a small amount saved to start your investment fund, ETF's can be purchased with less than $10 per trade from discount brokerage firms. You can dollar cost average monthly or quarterly over an extended period of time.
The sooner you start the better as your investments will compound over time. Over a 20 to 30 year period you will be amazed as to the actual return you will realize.
Daniel Iuculano AAMS CMFC
Accredited Asset Management Specialist
Chartered Mutual Fund Counselor