Financial Planning & Portfolio Management
REITS
Real Estate Investment Trusts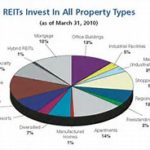 If you are interested in real estate, but lack the funds to make an actual purchase or the time required to research specific properties then a real estate investment trust is an option for you to consider.
REITs can be publicly traded on major exchanges, public but non-listed, or private.  The two main types of REITs are Equity REITs and Mortgage REITs.
Be careful with mortgage REITS during periods of rising interest rates, though they can pay a significant dividend they also can fall in value as interest rates that mortgage companies charge increase.
You can invest in domestic REITS (US) or foreign if you wish; Fidelity offers both types so do take a look if you are interested.
REITs are total return investments. They typically provide high dividends plus the potential for moderate, long-term capital appreciation. Long-term total returns of REIT stocks are likely to be somewhat less than the returns of higher risk, high-growth stocks and somewhat more than the returns of lower risk bonds.
With REITs, you can diversify between scores of properties with a single share, rather than needing to put hundreds of thousands of dollars into a single home. You can sell your shares in minutes with a simple broker's fee.
Vanguard REIT Fund (VNQ) is a simple way to capitalize on this idea.
VNQ is an index fund, so it's not trying to pick the best REITs. Rather, it follows the MSCI U.S. REIT Index, which holds 149 positions and covers 99% of the investable REIT universe.
To learn more about REITS review the video below.
Daniel Iuculano, AAMS CMFC
Accredited Asset Management Specialist
Chartered Mutual Fund Counselor